What is 100ZR and Why Does it Matter?
In June 2022, transceiver developer II‐VI Incorporated (now Coherent Corp.) and optical networking solutions provider ADVA announced the launch of the industry's first 100ZR pluggable coherent transceiver. Discussions in the telecom sector about a future beyond 400G coherent technology have usually focused on 800G products, but there is increasing excitement about "downscaling" to 100G coherent products for certain applications in the network edge and business services. This article will discuss the market and technology forces that drive this change in discourse.
The Need for 100G Transmission in Telecom Deployments
The 400ZR pluggables that have become mainstream in datacom applications are too expensive and power-hungry for the optical network edge. Therefore, operators are strongly interested in 100G pluggables that can house coherent optics in compact form factors, just like 400ZR pluggables do. The industry is labeling these pluggables as 100ZR.
A recently released Heavy Reading survey revealed that over 75% of operators surveyed believe that 100G coherent pluggable optics will be used extensively in their edge and access evolution strategy. However, this interest had not really materialized into a 100ZR market because no affordable or power-efficient products were available. The most the industry could offer was 400ZR pluggables that were "powered-down" for 100G capacity.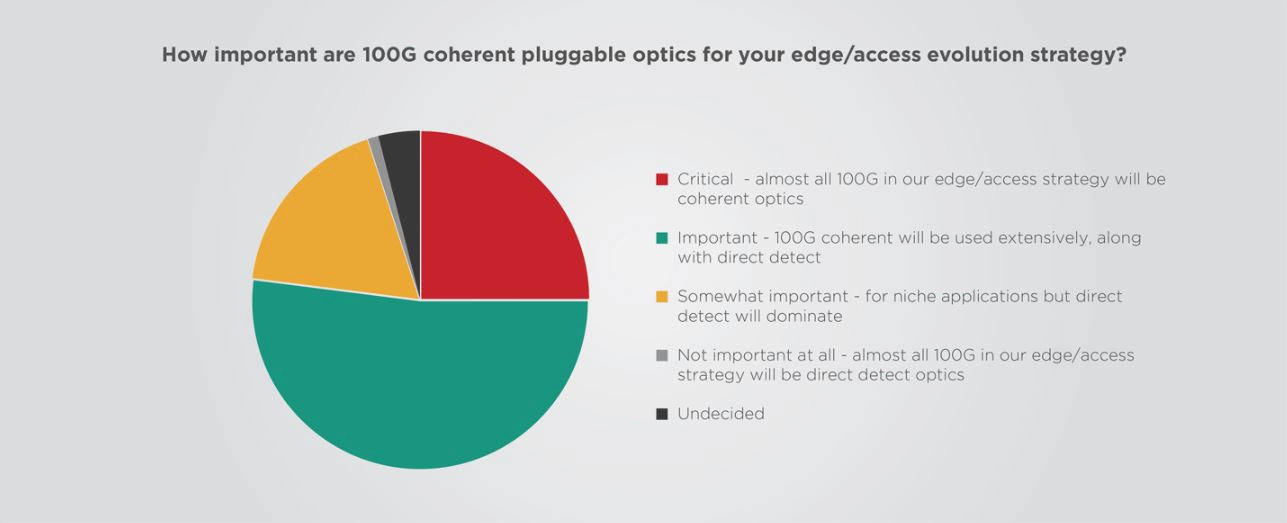 100ZR and its Enabling Technologies
With the recent II-VI Incorporated and ADVA announcement, the industry is showing its first attempts at a native 100ZR solution that can provide a true alternative to the powered-down 400ZR products. Some of the key specifications of this novel 100ZR solution include:
A QSFP28 form factor, very similar but slightly smaller than a QSFP-DD
5 Watt power consumption
C-temp and I-temp certifications to handle harsh environments
The 5 Watt-power requirement is a major reduction compared to the 15-Watt specification of 400ZR transceivers in the QSFP-DD form factor. Achieving this spec requires a digital signal processor (DSP) that is specifically optimized for the 100G transceiver.
Transceiver developers often source their DSP, laser, and optical engine from different suppliers, so all these chips are designed separately from each other. This setup reduces the time to market, simplifies the research and design processes, but comes with performance and power consumption trade-offs.
In such cases, the DSP is like a Swiss army knife: a jack of all trades designed for different kinds of optical engines but a master of none. DSPs co-designed and optimized for their specific optical engine and laser can significantly improve power efficiency. You can read more about co-design approaches in one of our previous articles.
Achieving 100ZR Cost-Efficiency through Scale
Making 100ZR coherent optical transceivers more affordable is also a matter of volume production. As discussed in a previous article, if PIC production volumes can increase from a few thousand chips per year to a few million, the price per optical chip can decrease from thousands of Euros to mere tens of Euros. Such manufacturing scale demands a higher upfront investment, but the result is a more accessible product that more customers can purchase.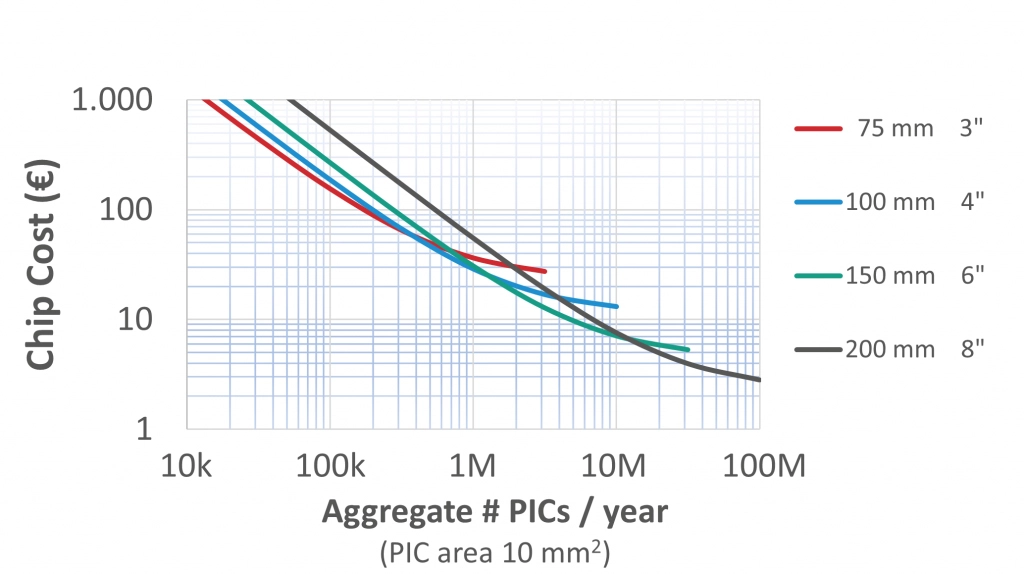 Achieving this production goal requires photonics manufacturing chains to learn from electronics and leverage existing electronics manufacturing processes and ecosystems. Furthermore, transceiver developers must look for trusted large-scale manufacturing partners to guarantee a secure and high-volume supply of chips and packages.
If you want to know more about how photonics developers can leverage electronic ecosystems and methods, we recommend you read our in-depth piece on the subject.
Takeaways
As the Heavy Reading survey showed, the interest in 100G coherent pluggable optics for edge/access applications is strong, and operators have identified use key use cases within their networks. In the past, there were no true 100ZR solutions that could address this interest, but the use of optimized DSPs and light sources, as well as high-volume manufacturing capabilities, can finally deliver a viable and affordable 100ZR product.