EFFECT Photonics' new NarroWave technology enabled SFP+ modules is a new feature that allows customers to monitor and control remote SFP+ modules from the central office without making any hardware or software changes in the field.  NarroWave is agnostic of vendor equipment, data rate or the protocol of the in-band traffic. The host at the central office can access the remote digital diagnostics and monitoring by reading dedicated memory pages of the local SFP+, which are a mirror of the host device. This feature can also be used to send commands to a remote device, which enables use-cases such as automatic tuning and automatic power-balancing. This makes EFFECT Photonics' SFP+ modules a powerful asset in the toolkit of any telecom provider looking to dynamically control and monitor its telecommunication network.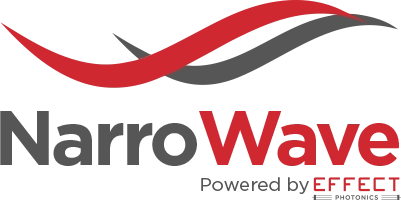 Remote Digital Diagnostics and Monitoring
EFFECT Photonics' tunable transceivers allow customers to commission an entire telecoms network from the central office and monitor critical parameters in the field, with no loss in data capacity of the 10G SFP+ transceivers. The technology allows multiple SFP+ transceiver modules to talk to one another without interfering with the customers' data channel by essentially creating an auxiliary channel between the modules. As soon as the module is plugged in, it can either be tuned manually from the central office or, with our 'auto-tune' feature, it can automatically find its way into the network and connect.   We offer NarroWave technology-enabled SFP+ modules for remote digital diagnostics and monitoring.