When will the Network Edge go Coherent?
Article first published 27 July 2022, updated 12 April 2023.
Network carriers want to provide communications solutions in all areas: mobile access, cable networks, and fixed access to business customers. They want to provide this extra capacity and innovative and personalized connectivity and entertainment services to their customers.
Deploying only legacy direct detect technologies will not be enough to cover these growing bandwidth and service demands of mobile, cable, and business access networks with the required reach. In several cases, networks must deploy more 100G coherent dense wavelength division multiplexing (DWDM) technology to transmit more information over long distances. Several applications in the optical network edge could benefit from upgrading from 10G DWDM or 100G grey aggregation uplinks to 100G DWDM optics:
Mobile Mid-haul benefits from seamlessly upgrading existing uplinks from 10G to 100G DWDM.
Mobile Backhaul benefits from upgrading their links to 100G IPoDWDM.
Cable Access links could upgrade the uplinks of existing termination devices such as optical line terminals (OLTs) and Converged Cable Access Platforms (CCAPs) from 10G to 100G DWDM.
Business Services could scale enterprise bandwidth beyond single-channel 100G grey links.
However, network providers have often stuck to their 10G DWDM or 100G grey links because the existing 100G DWDM solutions could not check all the required boxes. "Scaled-down" coherent 400ZR solutions had the required reach and tunability but were too expensive and power-hungry for many access network applications. Besides, ports in small to medium IP routers used in most edge deployments often do not support the QSFP-DD form factor commonly used in 400ZR modules but the QSFP28 form factor.
Fortunately, the rise of 100ZR solutions in the QSFP28 form factor is changing the landscape for access networks. "The access market needs a simple, pluggable, low-cost upgrade to the 10G DWDM optics that it has been using for years. 100ZR is that upgrade," said Scott Wilkinson, Lead Analyst for Optical Components at market research firm Cignal AI. "As access networks migrate from 1G solutions to 10G solutions, 100ZR will be a critical enabling technology."
In this article, we will discuss how the recent advances in 100ZR solutions will enable the evolution of different segments of the network edge: mobile midhaul and backhaul, business services, and cable.
How Coherent 100G Can Move into Mobile X-haul
The upgrade from 4G to 5G has shifted the radio access network (RAN) from a two-level structure with backhaul and fronthaul in 4G to a three-level structure with back-, mid-, and fronthaul:
Fronthaul is the segment between the active antenna unit (AAU) and the distributed unit (DU)
Midhaul is the segment from DU to the centralized unit (CU)
Backhaul is the segment from CU to the core network.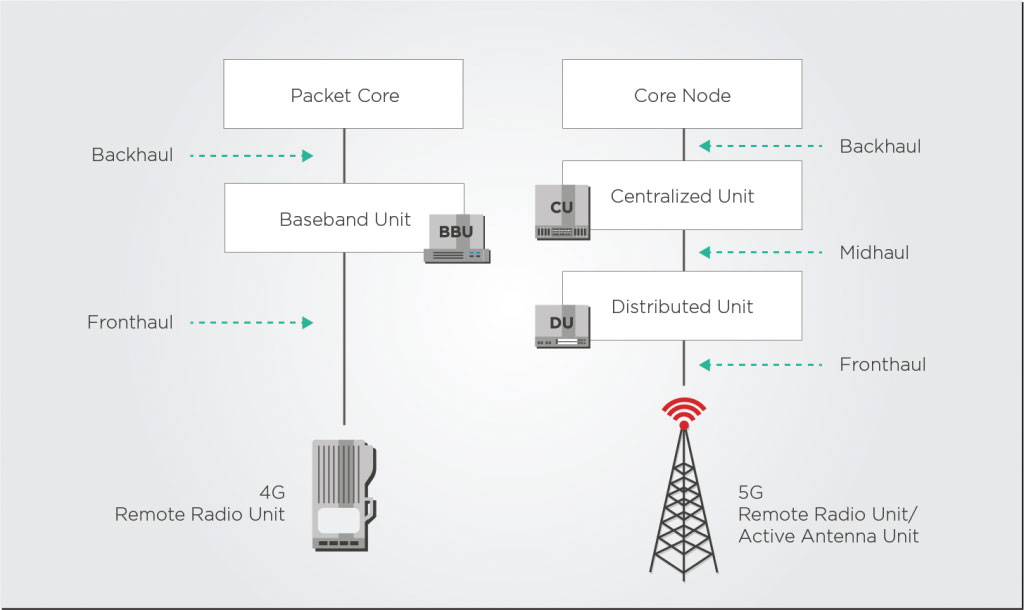 The initial rollout of 5G has already happened in most developed countries, with many operators upgrading their 1G SFPs transceiver to 10G SFP+ devices. Some of these 10G solutions had DWDM technology; many were single-channel grey transceivers. However, mobile networks must move to the next phase of 5G deployments, which requires installing and aggregating more and smaller base stations to exponentially increase the number of devices connected to the network.
These mature phases of 5G deployment will require operators to continue scaling fiber capacity cost-effectively with more widespread 10G DWDM SFP+ solutions and 25G SFP28 transceivers. These upgrades will put greater pressure on the aggregation segments of mobile backhaul and midhaul. These network segments commonly used link aggregation of multiple 10G DWDM links into a higher bandwidth group (such as 4x10G). However, this link aggregation requires splitting up larger traffic streams and can be complex to integrate across an access ring. A single 100G uplink would reduce the need for such link aggregation and simplify the network setup and operations. If you want to know more about the potential market and reach of this link aggregation upgrade, we recommend reading the recent Cignal AI report on 100ZR technologies.
Cable Migration to 10G PON Will Drive the Use of Coherent 100G Uplinks
According to Cignal AI's 100ZR report, the biggest driver of 100ZR use will come from multiplexing fixed access network links upgrading from 1G to 10G. This trend will be reflected in cable networks' long-awaited migration from Gigabit Passive Optical Networks (GPON) to 10G PON. This evolution is primarily guided by the new DOCSIS 4.0 standard, which promises 10Gbps download speeds for customers and will require several hardware upgrades in cable networks.
To multiplex these new larger 10Gbps customer links, cable providers and network operators need to upgrade their optical line terminals (OLTs) and Converged Cable Access Platforms (CCAPs) from 10G to 100G DWDM uplinks. Many of these new optical hubs will support up to 40 or 80 optical distribution networks (ODNs), too, so the previous approach of aggregating multiple 10G DWDM uplinks will not be enough to handle this increased capacity and higher number of channels.
Anticipating such needs, the non-profit R&D organization CableLabs has recently pushed to develop a 100G Coherent PON (C-PON) standard. Their proposal offers 100 Gbps per wavelength at a maximum reach of 80 km and up to a 1:512 split ratio. CableLabs anticipates C-PON and its 100G capabilities will play a significant role not just in cable optical network aggregation but in other use cases such as mobile x-haul, fiber-to-the-building (FTTB), long-reach rural scenarios, and distributed access networks.
Towards 100G Coherent and QSFP28 in Business Services
Almost every organization uses the cloud in some capacity, whether for development and test resources or software-as-a-service applications. While the cost and flexibility of the cloud are compelling, its use requires fast, high-bandwidth wide-area connectivity to make cloud-based applications work as they should.
Similarly to cable networks, these needs will require enterprises to upgrade their existing 1G Ethernet private lines to 10G Ethernet, which will also drive a greater need for 100G coherent uplinks. Cable providers and operators will also want to take advantage of their upgraded 10G PON networks and expand the reach and capacity of their business services.
The business and enterprise services sector was the earliest adopter of 100G coherent uplinks, deploying "scaled-down" 400ZR transceivers in the QSFP-DD form factor since they were the solution available at the time. However, these QSFP-DD slots also support QSFP28 form factors, so the rise of QSFP 100ZR solutions will provide these enterprise applications with a more attractive upgrade with lower cost and power consumption. These QSFP28 solutions had struggled to become more widespread before because they required the development of new, low-power digital signal processors (DSPs), but DSP developers and vendors are keenly jumping on board the 100ZR train and have announced their development projects: Acacia, Coherent/ADVA, Marvell/InnoLight, and Marvell/OE Solutions. This is also why EFFECT Photonics has announced its plans to co-develop a 100G DSP with Credo Semiconductor that best fits 100ZR solutions in the QSFP28 form factor.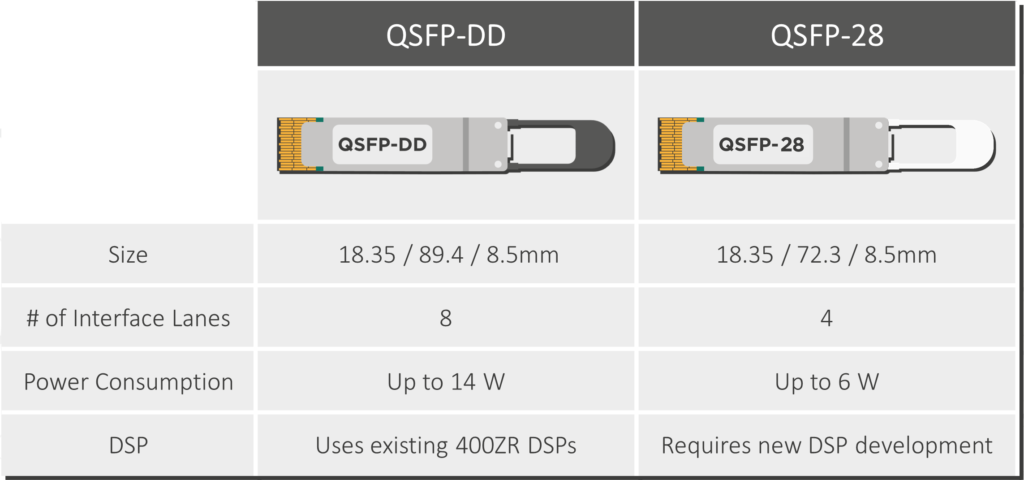 Takeaways
In the coming years, 100G coherent uplinks will become increasingly widespread in deployments and applications throughout the network edge. Some mobile access networks use cases must upgrade their existing 10G DWDM link aggregation into a single coherent 100G DWDM uplink. Meanwhile, cable networks and business services are upgrading their customer links from 1Gbps to 10Gbps, and this migration will be the major factor that will increase the demand for coherent 100G uplinks. For carriers who provide converged cable/mobile access, these upgrades to 100G uplinks will enable opportunities to overlay more business services and mobile traffic into their existing cable networks.
As the QSFP28 100ZR ecosystem expands, production will scale up, and these solutions will become more widespread and affordable, opening up even more use cases in access networks.