EFFECT Photonics pleased to be a participant in the Region Deal Brainport Eindhoven
In 2018, Brainport Eindhoven, via the Region Deal, invested €35 million into helping build and support the broader PhotonDelta eco-system. EFFECT Photonics was one of the companies that benefited from this support. In the following video, we, together with MantiSpectra and PhotonFirst, introduce our businesses and share how this initiative has helped us grow.
As part of this initiative, the Dutch government, provincial departments, companies and knowledge institutes will invest €236 million in Dutch-based photonics technology in the coming years in order to further develop the technology and remain a global leader in this field. This investment is expected to create around 4000 jobs by 2025.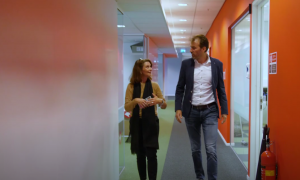 Our thanks go to PhotonDelta and all the parties involved that made this possible including the Dutch government, the Province of North Brabant, the Brainport Foundation, Brainport Regional Fund and the Municipality of Eindhoven. If you would like to know more, then please visit
https://brainporteindhoven.com/en/discover/strategy/region-deal-brainport-eindhoven