The Future of 5G Fronthaul
The 5G network revolution promises to fulfill the capacity needs that previous cellular generations could no longer provide to the ever-increasing customer demands. This network generation is expected to revolutionize the concept of telecommunication and bring the most anticipated services of larger bandwidth, higher speed, and reduced latency as part of the modern cellular network. The upgrade from 4G to 5G has shifted the radio access network (RAN) from a two-level structure with backhaul and fronthaul in 4G to a three-level structure with back-, mid-, and fronthaul:
Fronthaul is the segment between the active antenna unit (AAU) and the distributed unit (DU)
Midhaul is the segment from DU to the centralized unit (CU)
Backhaul is the segment from CU to the core network.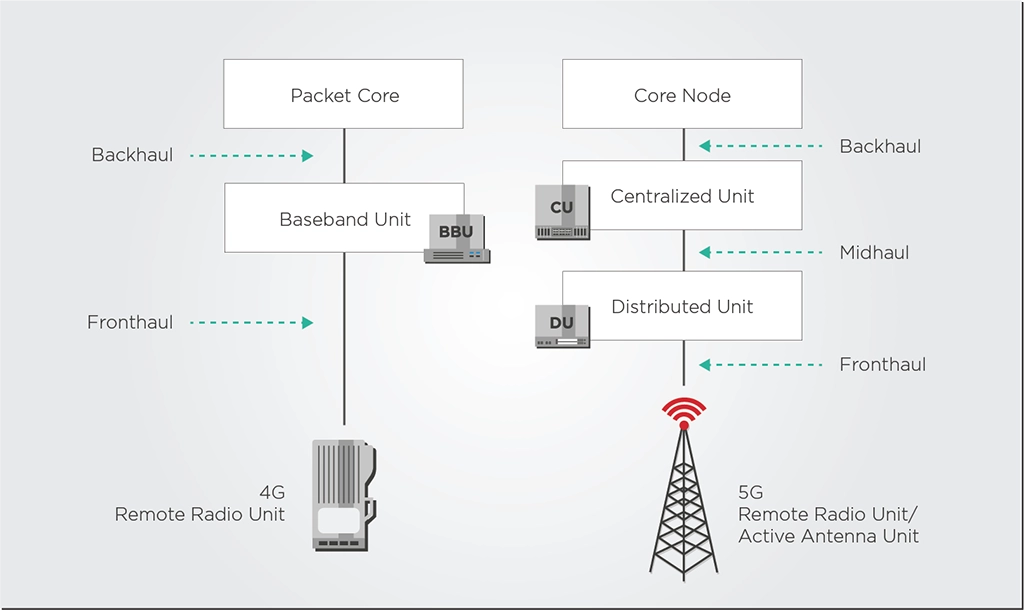 5G promises to interconnect exponentially more devices than before, with higher speed and latencies. As a result, 5G edge network bandwidth requirements can reach up to 100 times more than 4G. These requirements will put more pressure on the existing fiber infrastructure, and mobile network operators are expected to deliver their 5G promises with relatively little expansion in their fiber infrastructure.
The initial rollout of 5G has already happened in most developed countries, with operators switching from 1G SFP transceivers and grey transceivers to 10G SFP+ or wavelength division multiplexing (WDM). Mobile networks must move to the next phase of 5G deployments, which will exponentially increase the number of devices connected to the network. These more mature phases of 5G deployment will require operators to scale capacity cost-effectively. The move to 25G tunable optics in fronthaul networks will enable this expansion in capacity in an affordable way and help promote a long-awaited convergence between mobile and fixed access networks.
Enhancing Mobile Fronthaul Capacity
The move from 4G to 5G networks saw many operators upgrade their 10G grey transceivers to tunable 10G transceivers and 25G grey transceivers to make the most of their fiber infrastructure. However, as the 5G rollout moves into a more mature phase, the demands of fronthaul networks will often require even greater capacity from fiber infrastructure.
These future demands are a key reason why South Korea's service providers decided to future-proof their fiber infrastructure and invested in 10G and 25G WDM technology since the early stages of their 5G rollout. Over time, providers in other countries will find themselves fiber-limited and turn towards tunable technologies. These trends are why LightCounting forecasts that the 25G DWDM market will provide the most significant revenue opportunity in the coming five years.
These 25G tunable transceivers support a typical reach of 10 km. It can reach up to 15 or even 20 km with extra amplification and compensation. Maximizing the capacity of fronthaul fiber will not only be beneficial for mobile network providers and telecom business developers, system architectures, equipment manufacturers, and product developers.

DWDM Solutions For Fronthaul Aggregation
The transitions to 3G and 4G relied heavily on more efficient use of broader RF spectrum blocks. These transitions were as simple for many cell sites as changing the appropriate radio line card at a base station unit. The same cannot be said about the transition to 5G. Particularly this second phase of 5G deployment will require a more profound restructuring of mobile network architecture. These mature 5G networks will use higher frequency bands, which require the deployment of more cell sites and antennas to cover the same geographical areas as 4G. In contrast, existing antennas must upgrade to denser antenna arrays.
The characteristics of this second 5G deployment mean that operators must deploy larger-bandwidth channels and more total channels due to the additional base stations. DWDM is an excellent fit for interconnecting these new smaller cell sites since it allows operators to quickly increase their number of channels without having to lay out new and expensive fiber infrastructure. Thanks to the 25G capacity, these additional channels can be easily aggregated into the fronthaul transport network without being limited by fiber infrastructure.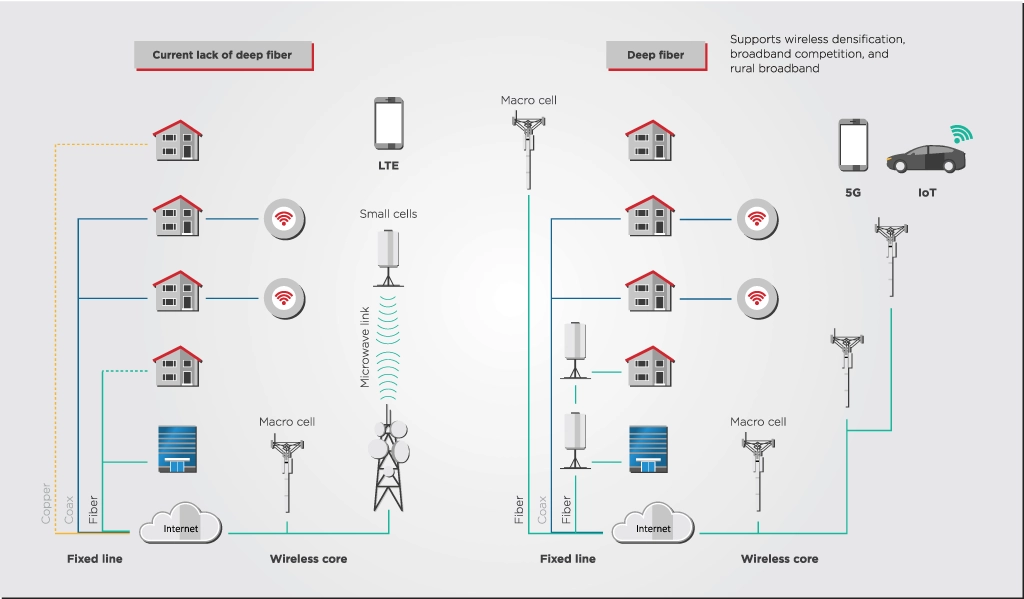 The Dream of Fixed-Mobile Access
Carriers that provide both fixed and mobile network services may often have to deal with situations in which their fixed and mobile access networks compete against each other. Since these networks often use different technology standards and even transmission media (e.g., legacy coaxial networks in fixed access), these carriers often have to build additional and arguably redundant optical infrastructure.
These carriers have long dreamed of merging their fixed and mobile network infrastructures under the same standards and transmission pipes. Such solutions reduce the need to build and manage redundant infrastructure. The expansion of fiber infrastructure and WDM technology might finally provide them with the opportunity to do so.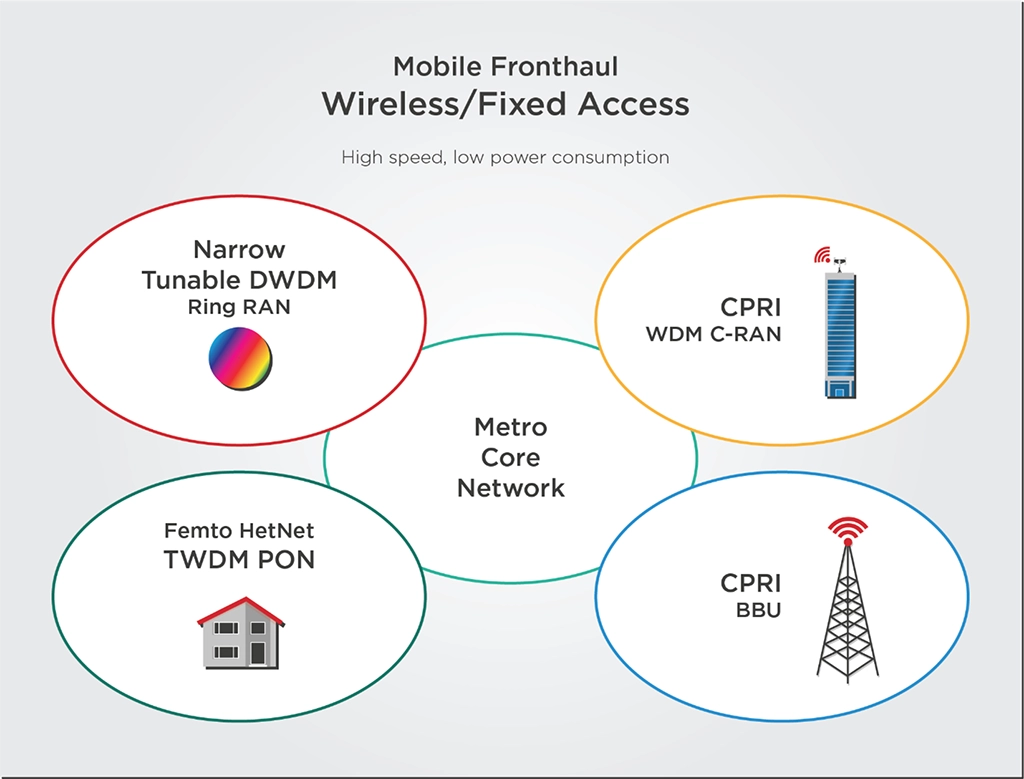 Passive optical networks (PON) have become a popular solution to implement fiber-to-the-home solutions. These networks' bandwidth and latency requirements are leading to the standardization of 25G PONs and WDM-PON technology. Now that both mobile and fixed access are considering 25G WDM solutions, it might be a good time to revisit the subject of convergence, as together, this network will offer various quality services such as communication, entertainment, and data acquisition without any terminal, application, network, and location limitation.
Takeaways
25G tunable optics will become an industry standard for mobile fronthaul in the coming years. They allow operators to make the most of their existing fiber infrastructure, maximizing bandwidth and increasing the network's ability to aggregate more signals from smaller and more numerous 5G base stations. For certain carriers, they could enable a future converged fixed-access network that simplifies the installation and management of their infrastructure. As shown by the example of South Korean network operators, it pays off to anticipate all these future demands and invest in a future-proof network that can scale up quickly.